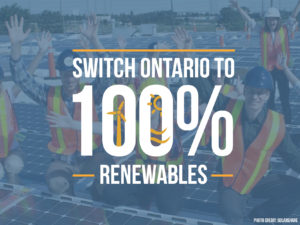 The People's Climate Movement supports the call for Ontario to move to 100% Renewable Energy by 2050.
Meeting Ontario's electricity, heating, and transportation energy needs with sustainable renewable energy is achievable.
We currently produce more than a quarter of our electricity with renewable sources like water, wind, solar and biogas, and with costs falling and technologies improving we can quickly add more.
The Ontario government needs to remove barriers to the fast adoption of renewable energy while also helping us make the best use of this clean green energy, through enhanced efforts to increase efficiency, conservation, storage, district heating and electric mobility.
On December 15th, 2016, PCM sent the following submission to the Ontario Government's Long-Term Energy Plan (LTEP) review.
---
RE: Ontario Long-Term Energy Plan (LTEP)
Environmental Bill of Rights Registration # 012-8840
We believe that Ontario's next Long-Term Energy Plan (LTEP) can put lay out a path to reach100% renewable power, transportation and heating by 2050.  By putting supportive policies in place it can enable citizens, communities and First Nations to go 100% renewable even sooner.
Put Conservation First
To fight climate change and reduce our environmental footprint, Ontario's next energy plan can make conservation and efficiency the first priority for all energy decisions.
A recent government study showed we have the potential to cost-effectively reduce electricity demand by 30% by 2035.
The government should pursue all cost-effective conservation.
Empower Communities and Citizens to go 100% Renewable
Ontario's next energy plan can empower everyone from citizens and co-ops to municipalities and First Nations to become energy producers.
It can empower communities like Oxford County that want to go 100% renewable.
In doing so, it will also be creating good green jobs for Canadians.
To support such initiatives, Ontario should continue current FIT programs and create a new one for local initiatives to build wind projects.
Don't rely on Nuclear Power
While the cost of renewables keeps declining, the cost of nuclear power has only ever gone up. Despite this, the government's past energy plans have made no requirement for nuclear projects to undergo public review against alternatives. This needs to change.
There needs to be a rigorous analysis of future energy mix scenarios and a clear plan to phase out nuclear energy in the province.
Ontario's Role in Fighting Climate Change
 As the Canadian debate about how to reduce greenhouse gas emissions continues, Ontario can lead by example. The government has already laid a good foundation by eliminating coal fired power plants and creating FIT programs for solar development.
Ontario can lead by showing that it is possible to engage citizens, co-ops, groups, municipalities and First Nations at the local level, to move forward to 100% renewable energy.  And in doing so, it will make a great contribution to curbing climate change.
Submitted by
Silvia Wineland
for the Peoples Climate Movement Team
in the Greater Toronto Area
info@peoplesclimatemovement.ca
---
Follow PCM on Social Media