#Picture2050 is a Photography Contest for Citizen Photographers inspired by the City's
TransformTO Climate Plan.
The Challenge 
Imagine Toronto in the year 2050. What does a green, healthy and equitable city of the future look like?
Submit up to 3 photos that represent the Toronto you would like to see in 2050.
Whether it be elements of the city that represent sustainability, or a moment in time that captures the spirit of inclusive, resilient, and sustainable urban development, we invite you to share your vision with us.
Show us the stories you are a part of and the things that inspire you. Capture actions, events, people, places – anything that you feel is helping Toronto become a better city by 2050.
To achieve a climate-friendly, caring and prosperous city we have to be able to imagine it. Each photograph you submit is a building block of the future city that we will bring to life together.
Find all the contest rules and submit your photos at the contest website: picture2050.ca
Deadline for submissions: Friday, January 12th.
Categories
Kids' Award: Age 11 and under

Youth Award: Age 12-17

Adult Award: Age 18 +
Criteria
Photos will be judged according to set criteria, which will include:
Vision for a sustainable, climate-friendly city

Representation of

TransformTO themes

–

climate action for a healthy, equitable, prosperous Toronto

Originality and creativity
Winners
The winner in each category will be awarded $200 and will be recognized at an award ceremony.
The winning photographs along with 4 "honourable mentions" in each category will be framed and featured in an exhibit.
Follow the #Picture2050 Contest
on the Website, Instagram and Facebook
Hashtags: #Picture2050 #TransformTO #TOgether.
---
The #Picture2050 photo contest is presented by
Toronto Climate Action Network (TCAN)
and sponsored by
The Atmospheric Fund (TAF)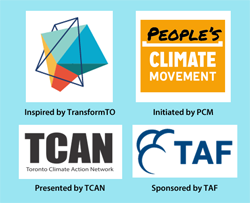 ---
Follow PCM on Social Media