#Picture2050 is a Photography Contest for Citizen Photographers inspired by the City's
TransformTO Climate Plan.

---
Finalists and Winners have been announced
Photos are on display at Toronto City Hall until January 25th

---
The Challenge 
Imagine Toronto in the year 2050. What does a green, healthy and equitable city of the future look like?
Participants submitted up to 3 photos that represent the Toronto they would like to see in 2050.
They show us diverse stories that they are a part of and the things that inspire them. Actions, events, people, places – things they feel will help Toronto become a better city by 2050.
See the 18 top photos at Picture2050 Contest Results
Categories
Kids' Award: Age 11 and under

Youth Award: Age 12-17

Adult Award: Age 18 +
Criteria
Photos were be judged according to the following criteria:
Vision for a sustainable, climate-friendly city

Representation of

TransformTO themes

–

climate action for a healthy, equitable, prosperous Toronto

Originality and creativity
Winners
The winner in each category will be awarded $200 and will be recognized at an award ceremony on February 6th from 6 p.m. to 8 p.m. in the Members' Lounge at City Hall.  To join the celebration Register here.
The winning photographs along with "honourable mentions" in each category are on exhibit at Toronto Cit Hall through January 25th.
Follow the #Picture2050 Contest
on the Website, Instagram and Facebook
Hashtags: #Picture2050 #TransformTO #TOgether.
---
The #Picture2050 photo contest is presented by
Toronto Climate Action Network (TCAN)
and sponsored by
The Atmospheric Fund (TAF)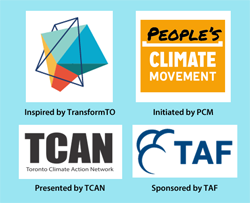 ---
Follow PCM on Social Media