What happens now that Trump has dumped the TPP?
The TPP is not officially dead until February 2018, the deadline for signing nations to ratify it. It requires ratification by at least six countries accounting for 85% of the combined gross domestic product of the member nations. This means the US and Japan must be included.
The Trump administration claims to be interested in bi-lateral trade deals instead, and intends to re-negotiate NAFTA as well.
The provisions of the TPP that we oppose will not die with the deal.  They will simply be inserted in other deals, currently being negotiated or coming soon.
Framing the Debate
Supporters of the TPP, including Chrystia Freeland, Canada's Minister of Foreign Affairs (and former Minister of International Trade) have used Trump's opposition to create a false argument: that anti-TPP = anti-trade. "We're living in an era of nativism and protectionism, something that I think is very dangerous for the world and for Canadians," said Freeland, (speaking to the Senate trade committee, Nov. 22/16, reported by Global News)
The promoters of multi-lateral trade deals, like NAFTA and the TPP frame the pro and con arguments this way: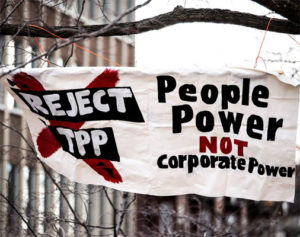 They say being against the deal means being:
Anti-trade
Pro-tariff (Trump uses them as threat)
Protectionist
The say being for the deal means being for:
More Exports
Cheaper consumer goods
Missing the Point
Setting up this false dichotomy means they do not deal with the real problems and issues embodied in these deals.
Being anti-TPP is NOT automatically being anti-trade.
For PCM it means being for Fair Trade.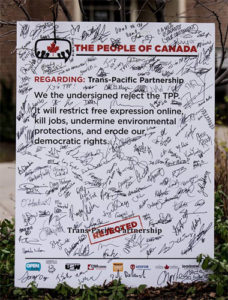 But it does mean being against the provisions (in many trade deals) that limit governments' ability to govern in the interests of the people, and favour multinational corporations' interests above the public interest.
It certainly means opposing ISDS, the investor-state dispute settlement process.
"If you wanted to convince the public that international trade agreements are a way to let multinational companies get rich at the expense of ordinary people, this is what you would do: give foreign firms a special right to apply to a secretive tribunal of highly paid corporate lawyers for compensation whenever a government passes a law to, say, discourage smoking, protect the environment or prevent a nuclear catastrophe. Yet that is precisely what thousands of trade and investment treaties over the past half century have done, through a process known as 'investor-state dispute settlement', or ISDS."
(The Economist, October 11, 2014)
---
Resources:
After U.S. exit, Asian nations try to save TPP trade deal
http://www.reuters.com/article/us-usa-trump-asia-idUSKBN15800V
Reuters, Jan, 24, 2017
Investor-state dispute settlement: The arbitration game
http://www.economist.com/news/finance-and-economics/21623756-governments-are-souring-treaties-protect-foreign-investors-arbitration
The Economist, Oct. 11, 2014
---
Follow PCM on Social Media