What are the main multi-lateral deals and what is their current status?

(a page in progress)
STATUS CHART
Deals that include Canada
NAFTA
North American Free Trade Agreement
NAFTA is currently being renegotiated.
See PCM's NAFTA Update: through a Climate Change Lens
It was signed in 1992 by Canada, Mexico, and the United States, and ratified by all three in 1994.
NAFTA has two supplements: the North American Agreement on Environmental Cooperation (NAAEC) and the North American Agreement on Labor Cooperation (NAALC).
Assessment by the Council of Canadians:
In Canada, imports destroyed more jobs than exports created – by 1997 the net destruction of jobs had reached 276,000. The loss of permanent, well-paid, and unionized jobs is not cause to boast of economic growth and middle-class job creation. In the name of competitiveness, unemployment insurance, health and education transfers, social assistance and housing programs were all 'harmonized downward' toward U.S. levels.
Furthermore, the Latin American news service Telesur reports, "According to the Center for Economic and Policy Research, Mexican poverty has risen since the deal's implementation in 1994 as economic growth and real wages stagnated while nearly 5 million family farmers were displaced, propelling Mexico's poor toward migration to the United States – crucial drivers of social instability and unrest."
https://canadians.org/blog/your-guide-nafta-talks-expected-start-august-16

---
CETA
Comprehensive and Economic Trade Agreement
When she was International Trade Minister, Chrystia Freeland was instrumental in finalizing this deal between Canada and European Union. She championed it as "a 'gold-plated' trade deal."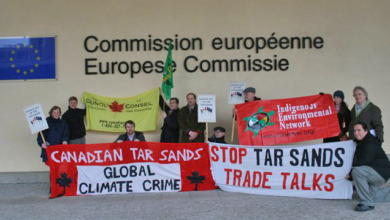 In mid-February 2017  about 58% of the members of the European Parliament (MEPs) voted to ratify CETA. Individual states are still in the process of ratifying.
In Canada, the House of Commons passed bill C-30, Canada's implementation legislation (opposed by the NDP, Bloc Québécois and Green Party Leader Elizabeth May.)
---
Below are excerpts from a CBC news report, EU Parliament approves CETA, Feb. 15, 2017
Bold added by PCM- areas of concern.
… Prime Minister Justin Trudeau was asked what's in the deal for Canadians. "Good jobs," he said. "We know that trade leads to good middle-class jobs."

… Not only does it drop or phase out nearly all existing tariffs and grant new market access for a wide range of products including agricultural commodities, but it opens up government procurement to foreign companies.
CETA also brings in common certification for goods and services, recognizes professional credentials and harmonizes labour and environmental standards between the two trading partners. 
Opponents to the deal mobilized street protests across Europe and placed intense pressure on politicians to reject the deal, arguing that it was a threat to sovereignty and could allow Canadian subsidiaries of large American corporations to sue governments
if they passed regulations that hurt business interests.

---
The issue and implications of losing "procurement protection" are explored in a Rabble.ca article, Trudeau's concessions in Canada-EU deal will hit cities hardest, July 7, 2017
CETA removes procurement protection
This protection allows governments (including cities) and the "MASH sector" (municipal, academic, schools and hospitals) to favour Canadian suppliers of goods and services. It was protected under NAFTA and all of the many bilateral agreements signed by Canada. Until CETA.
Consequences:
1. municipal governments will lose the power to support local business
2. food security through the purchase of local food production is threatened
3. loss of the ability to support and create good local jobs
Resources:
---
TISA
Trade In Services Agreement
The next deal to watch for.  The TPP could rise again as the "zombie trade deal" under the cover of TISA.
Negotiations began in 2013, have gone through 21 rounds and involve 50 countries.
Aimed at "liberalizing" worldwide trade of "services" such as banking, healthcare, and transport, they began with provisions that would prohibit regulation of the financial industry, eliminate laws to safeguard online or digital privacy, render illegal any "buy local" rules at any level of government. But the definition of "services" is being expanded to encompass manufacturing.
"Corporations no longer consider setting up a plant and producing goods to be simply 'manufacturing goods.' This activity is now is broken down into research and development services, design services, legal services, real estate services, architecture services, engineering services, construction services, energy services, employment contracting services, consulting services, manufacturing services, adult education services, payroll services, maintenance services, refuse disposal services, warehousing services, data management services, telecommunications services, audiovisual services, banking services, accounting services, insurance services, transportation services, distribution services, marketing services, retail services, postal and expedited delivery services, and after-sales servicing, to name a few. Going further, a shoe or watch that measures steps or sleep could be a fitness monitoring service, not a good. A driverless car could be a transport service, not an automobile. Google and Facebook could be information services and communication services, respectively." (Deborah James article in Huffington Post)
Resources:
---
TPP
Trans-Pacific Partnership
The TPP, put on hold, by U. S. president, Donald Trump, was to be one of the world's biggest multinational trade deals, signed by 12 countries, covering 40 per cent of the world economy.  The deadline for ratification is February 2018. It requires both U.S. & Japanese ratification to come into effect. Japan has indicated that  it would like to see the deal revived.
Canada is continuing to have discussions with the remaining members of what was previously the Trans-Pacific Partnership
Global Affairs Canada is still asking for Public Input up to October 30, 2017 . See the official government statement below.
The Government of Canada is committed to fostering and strengthening its economic relationship with Asia-Pacific nations, including with the remaining members of what was the Trans-Pacific Partnership (TPP) [Australia, Brunei, Chile, Japan, Malaysia, Mexico, New Zealand, Peru, Singapore, and Vietnam].
The Government of Canada is seeking the views of the Canadian public and interested Canadian stakeholders on a potential agreement with the remaining countries. The Government of Canada's approach is one that puts the interests of Canadians and opportunities for the middle class, women, youth and Indigenous people front and centre. Given recent developments, this is an opportunity to re-evaluate what new opportunities may exist for Canadians, particularly small and medium-sized businesses, going forward and for Canada to set the terms of trade in the region.
http://canadagazette.gc.ca/rp-pr/p1/2017/2017-09-30/html/notice-avis-eng.php#ne8

See 12 Questions about the TPP and
Resources:
---
Deals that do not involve Canada
TTIP
Transatlantic Trade and Investment Partnership
The proposed trade deal between the USA and the European Union.
---
RCEP
Regional Comprehensive Economic Partnership
RCEP is a free trade agreement, currently being negotiated between the ten member states of the Association of Southeast Asian Nations (ASEAN) (Brunei, Cambodia, Indonesia, Laos, Malaysia, Myanmar, the Philippines, Singapore, Thailand, Vietnam) and the six additionsl states (Australia, China, India, Japan, South Korea and New Zealand). ASEAN already has separate free trade agreements  with these countries.  Negotiations began in November 2012.
These 16 countries comprise about 30 percent of the world's GDP and would account for 40 percent of international trade.
According to a February 27 report in DW (Deutsche Welle):
The RCEP's 17th round aims to "push negotiations forward broadly in the fields of goods, services, investment, intellectual property, rules of origin, competition and electronic commerce…"
Resources:
Asia advances free trade talks in wake of US TPP withdrawal
DW (Deutsche Welle), Feb. 27, 2017
---

How Trade Deals Challenge the Government's Right to Rule
ISDS
Investor-State Dispute Settlelment
The ISDS mechanism allows foreign corporations to bring lawsuits against the Canadian government if a new policy (created by any level of government) might affect their profits. Under the ISDS, tribunal decisions can require huge pay-outs to corporations, payouts that will come from our taxes. Rulings bypass the Canadian legal system completely and there is no recourse for appeal.

The Chill Effect can prevent governments from even pursuing new policies to, for example, decrease CO2 emissions, or incentivize "green" production. Just the threat of a lawsuit can be enough to make a government back off. This has already happened under NAFTA and other trade that include the ISDS mechanism.
Resources:
List and Cost (potential cost) of ISDS Lawsuits under NAFTA
Investor-state dispute settlement: The arbitration game
The Economist, Oct. 11, 2014
---
Follow PCM on Social Media