We can't separate climate action from economic activity, social justice or trade regulations.
PCM position on NAFTA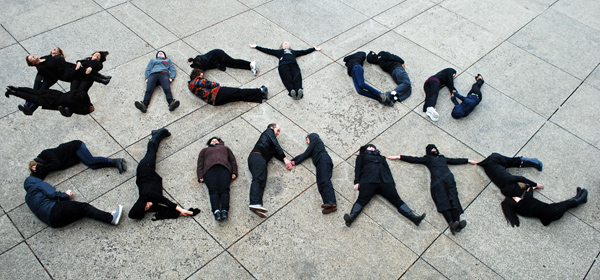 As long as climate issues and trade issues are kept in separate compartments, we won't have a chance of meeting climate goals set at COP21. Only through acknowledging the interconnections can our government make policy and programs that serve the best interests of ordinary people, without being undermined by multinational corporations.
In renegotiating NAFTA, Canada needs to:
Ensure that legally-binding, enforceable protection for Indigenous Rights is incorporated into the core text of the agreement. [ia]
Protect the ability of municipalities and provinces/states to legislate programs for the sustainable development of local economies, and the creation of well-paid, long-term renewable energy jobs.
Incorporate enforceable chapters on the environment and sustainable development into the core of text of the agreement.
Create a broad exemption to NAFTA's ISDS rules (if they are not removed from the agreement) for any government measure intended to reduce greenhouse gas emissions, encourage sustainable development or otherwise promote environmental protection.
Protect water by explicitly removing it as a tradable good, service or investment. We cannot leave our water vulnerable to bulk exports or privatization.
Free Canada from the energy proportionality clause that locks us into supplying the U.S. with oil quotas that are destroying our environment and restricting real action on climate change.
Remove stringent intellectual property (IP) provisions that threaten the ability of people to access affordable, life-saving medicines.
There is still time to demand that our government consider NAFTA through a climate change lens, and look at the impact it will have on the environment, jobs, and the health and well-being of Canadians. [i]
PCM supports the Open Statement on NAFTA, Environment and Climate, signed by over 40 environmental, labour and other civil society groups.
We need to Ask Why provisions are still included that place multinational corporate interests above the public interest and climate considerations.
---
Call to Action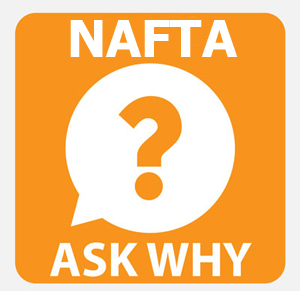 We need to let our representatives know that we care about the impact of NAFTA on climate change, environmental and social issues.
Send your concerns to:
Please send a copy to us as well: info@peoplesclimatemovement.ca.
To give your communication more impact, copy it to MPs who will amplify the message:
---
The TPP rises again in NAFTA renegotiations
A chart, released by The Office of the United States Trade Representative (USTR), compares U.S. "NAFTA Negotiating Objectives" to the "TPP Final Table of Contents." It shows clearly what TPP points will become part of the "modernized" NAFTA. The 12 Questions PCM developed to highlight issues in the TPP are still important. It's time to talk to our MPs and the federal Trade Team and "Ask Why" once again.
(See the chart here.)
---
Other NAFTA Issues of Concern to Canadians
Internet – Open Media Campaign: Don't trade away our digital rights (letter to sign)
The Intellectual properties section of the TPP will likely be brought into NAFTA. "It put our digital future on the chopping block. It would have locked us into some of the most restrictive copyright rules in the world: excessively long copyright terms, rigid rules on digital locks — now with criminal penalties – and even a tribunal dispute process that would allow Big Media companies to sue our government for making policies they don't like." [xi]
No Free Trade Without a Free Internet: Civil society urges trade decision-makers to consider the impacts of NAFTA on digital rights  [xi-i]

The NAFTA negotiation and development process must be democratic, transparent and participatory
---
Resources
[i]  NAFTA – Information on consultations (Govt of Canada website)
[ia] Protect indigenous people to help fight climate change (UN rapporteur Victoria Tauli-Corpuz in the Guardian, Oct. 2017)
[ii] ISDS in NAFTA
A discussion with David Schneiderman, University of Toronto, Faculty of Law,Constitutional Lawyer
The Agenda, TVO, May 08, 2017
"…  ISDS has become a hot topic. Roughly speaking, it allows companies to sue democratically-elected governments for making policy those companies say loses them money."
http://tvo.org/video/programs/the-agenda-with-steve-paikin/the-rules-of-trade-and-investment
[iii] ISDS lawsuits against Canada are listed here.
https://docs.google.com/spreadsheets/d/1YV0_TbaQp7EVF7XDvbTpLt7wPRnvm2RobvFd2jVwi1E/edit#gid=0
[iv] Summary of US Objectives for NAFTA: July 17, 2017, from the Office of the US Trade Representative
[v] Eliminate Nafta Provisions That Protect Polluters
by Maude Barlow, national chairperson of the Council of Canadians, New York Times January 30, 2017
https://www.nytimes.com/roomfordebate/2017/01/30/new-terms-for-nafta-7/eliminate-nafta-provisions-that-protect-polluters?smid=tw-share
[vi] CCPA NAFTA renegotiation submission
https://drive.google.com/file/d/0B_eOXmFBygEWY2NhT1VaeE5rUTA/view?usp=sharing
[vii] Trudeau must protect water in upcoming NAFTA renegotiation (Maude Barlow, National Chairperson of the Council of Canadians)
https://canadians.org/media/trudeau-must-protect-water-upcoming-nafta-renegotiation-report
[viii] Water for Sale
How Free Trade and Investment Agreements threaten environmental protection of water and promote the commodification of the world's water
https://canadians.org/sites/default/files/publications/waterforsale.pdf
[ix] Regaining control of Canada's energy
[x] Canada must win exemption from NAFTA's proportionality rule
Op-ed by Gordon Laxer, published in the Vancouver Sun, June 23, 2017
https://canadians.org/blog/opinion-canada-must-win-exemption-naftas-proportionality-rule
[xi] Open Media Campaign: Don't trade away our digital rights  https://act.openmedia.org/nafta
[xi-i]  No Free Trade Without a Free Internet more than two dozen civil society organizations from Mexico, Canada and the United States have released a joint statement on transparency, digital rights, and NAFTA.
https://openmedia.org/en/civil-society-urges-trade-decision-makers-consider-impacts-nafta-digital-rights
[xii] Labour Standards
Labour groups press Freeland to raise work standards in NAFTA talks: organizations say higher wages and protections in parts of the U.S. and Mexico will level the playing field and make Canada more attractive to businesses.
https://www.thestar.com/news/canada/2017/08/15/labour-groups-press-freeland-to-raise-work-standards-in-nafta-talks.html
[xiii] NAFTA and Labour Rights
Submission by the Progressive Economics Forum to the Standing Committee on International Trade
http://www.progressive-economics.ca/2017/05/17/nafta-and-labour-rights/
[xiv] NAFTA talks may threaten Canada's steps toward universal pharmacare (Aug. 4, 2017)
[xv] How NAFTA negotiations could impact Canadian health care
---
Follow PCM on Social Media