We are the People's Climate Movement – Canada (PCM), a group of concerned citizens working together to demand urgent local and global climate action. We were originally brought together by a call from Avaaz.org to organize the People's Climate March in Toronto in September 2014. We are a collaborative movement that seeks to ensure an equitable and sustainable future.
Join our Facebook Community!
Follow us on Twitter @PplClimateMvt
---
OUR CAMPAIGNS focus on:
Our campaigns are volunteer-developed and driven.
To learn more about how you can get involved or to receive updates about our campaigns, please email us at info@peoplesclimatemovement.ca or fill out the Update Sign-up Form below.
---
PCM Participation in Campaigns and Events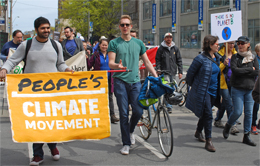 Campaign to #TransformTO #TOgether, 2017
People's Climate March, Toronto, April 29, 2017
Rally against Islamaphobia and Racism at the U.S. Consulate, Toronto, February 4th, 2017.
Rally against "Toxic" Trade Deals, November 26, 2016.
TPP Community Town Hall in North York, October 30, 2016
Rock Against the TPP and the TPP Teach-In, September 16th and 17th, 2016
March for Jobs, Justice and Climate, July 5th, 2015.
People'sClimate March, Toronto, September 2014
Summary of PCM activities with links to photo pages
---
Follow PCM on Social Media