Inspiration for the Toronto of 2050.
The deadline for submissions to the #Picture2050 Photo Contest has been extended to Friday January 12th.
Photos need not be new, but must be shot in the Greater Toronto Area. The guidelines are here.
Let your imagination be your guide
But if you need inspiration, here are some themes to consider for photos.
---
Themes 
Mobility – active modes for moving about – accessibility – green ways to get around Toronto  – green transit
Green Jobs – making us greener – caring, supportive, sharing  jobs –  work that benefits the community  – decent work
Buildings – energy efficient – powered by renewables – innovative use of space -affordable housing – green buildings and surrounding spaces – parks & green space
Communities – communities building a sustainable future – events, actions, spaces that make communities healthy, resilient, green & equitable
Conscious Consumption – circular & sharing economy – food systems that work for communities & the environment – waste diversion & reduction – innovative ways to reduce our Toronto's #waste footprint
Energy systems – community systems – different types of installations – #RenewableEnergy initiatives
---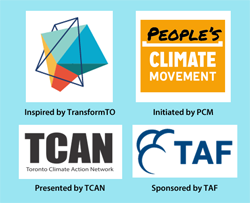 The #Picture2050 photography contest is presented by the Toronto Climate Action Network (TCAN), sponsored by The Atmospheric Fund (TAF), inspired by the city's TransformTO climate plan and was initiated by PCM.

Follow PCM on Social Media