SEA OF LIFE
This award winning film by Toronto filmmaker, Julia Barnes takes us through the stunning world of coral reefs into the heart of the environmental movement.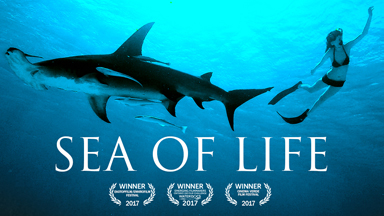 Watch the Trailer at the Film Website.
Inspired by Rob Stewart's film, Revolution, the young filmmaker embarks on an epic journey around the world to save the ecosystems we depend on for survival, as we come closer to causing a mass extinction in the oceans.  She takes us to meet passionate scientists, activists and explorers who reveal an enormous opportunity to rise up and become the heroes the world needs.
Julia Barnes will be present for a Q & A after the film.
---
Toronto Dates and Locations for Sea of Life
Tickets are free. Donations are welcome.
Monday, November 13 – Downtown – 6:30pm to 9:00pm – Friends House, 60 Lowther, Toronto.
Special guest: Jonathan Silver from SolarShare.
Get Tickets
Thursday, November 16 – Etobicoke – 6:30pm to 9:00pm – Humber College Lakeshore Campus, 19 Colonel Samuel Smith Park Drive, Toronto – Get Tickets
Wednesday, November 22 – Scarborough – 6:30pm to 9:00pm -Scarborough Village Recreation Centre, 3600 Kingston Rd, Toronto – Get Tickets
Thursday, November 30 – North York – 6:30pm to 9:00pm – Noor Cultural Centre, 123 Wynford Drive, Toronto
Special guest: On November 30th Alanna Mitchell, author of Seasick
Get Tickets
---
Coming in January to the Toronto Climate Film Festival:
Tomorrow/Demain – Visit the Film Website to see the trailer

Follow PCM on Social Media